September 2012   Market Update
Sales of existing homes have continued to improve. In July, one-third of all homes sold were on the market for less than a month. In fact, every region except the West, where inventory was low, saw a rise in monthly sales.
NAR Chief Economist Lawrence Yun believes that affordability conditions are very good for the housing market. "Mortgage interest rates have been at record lows this year, while rents have been rising at faster rates. Combined, these factors are helping to unleash a pent-up demand," Yun said. "However, the market is constrained by unnecessarily tight lending standards and shrinking inventory supplies, so housing could easily be much stronger without these abnormal frictions."
With mortgage rates beginning to rise, coupled with strong affordability, now is one of the best times in history to buy.
 Contact Us,your local real estate experts,for information about what's going on in our area. 
Home Sales
in millions
While home sales grew 2.3% from last month to 4.47 million units, year-over-year sales increased 10.4%. According to the National Association of Realtors, existing home sales rose in July with the national median sales price reaching five consecutive months of year-over-year growth. Distressed homes (which include short sales and foreclosures that traditionally sell for 15%–20% less on average compared to nondistressed homes) allotted for 24% of July sales, which is down from 25% in June, but is 29% below year-ago sales. Even with declines in distressed home levels, sales of these properties are still expected to be higher than the historic average.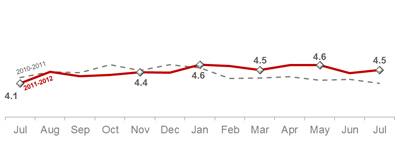 Home Price
in thousands
Rising inventory supply has placed downward pressure on home prices. The median home price fell 1% from last month, but rose 9.4% compared to a year earlier to $187,300. This marks the fifth consecutive month of year-over-year price gains, which has not been seen since January to May 2006. July's gains are the most robust since January of 2006 when median home prices rose 10.2% from 2005.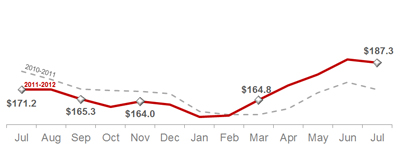 Inventory- Month's Supply
in months
Housing inventory increased 1.3% in July to 2.4 million homes available for sale, a 6.4-month supply. This marks the eighth consecutive month of inventory at a 6-month supply, the threshold for a balanced market, giving both buyers and sellers an equal advantage. As supply continues to hold steady at more balanced levels, so does the idea that the housing market is moving closer to a full-scale recovery.
Source: National Association of Realtors
Interest Rates
Mortgage rates at or around 3.66% are up slightly from 3.53%, possibly indicating rates have finally hit bottom. These are some of the lowest rates on record since 1971, increasing the urgency to buy now.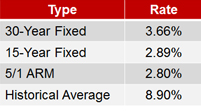 This Month's Video

Topics For Home Owners, Buyers & Sellers
When looking to sell, your home's appearance can be the difference between it sitting on the market or selling quickly. Updating your property can be one of the easiest and most cost-effective ways of adding value to your home. Here are some tips to get your house looking great:
Perform the most common updates. On average, someone who intends to sell their home spends about one-third of what they would spend during their entire time in that home. The most common updates are painting, flooring, and lighting—all of which have cost-effective options.
Make improvements. Improving your property can be critical to selling a home. According to market research, only 23% of the market sold were homes considered to be outdated while 76% were fairly to very updated. Making improvements is one of the more beneficial things a seller can do to help increase the appeal of their home.

Focus on the little things. Updating your house for sale doesn't have to mean remodeling the whole place. Focusing on individual items that really need updating will make a big impact. Putting a fresh coat of paint or replacing old hardware on your cabinets could be the thing that helps get your house sold.
your local real estate experts,
for information about what's going on in our area. 
Brought to you by KW Research. For additional graphs and details, please see the This Month in Real Estate PowerPoint Report.
The opinions expressed in This Month in Real Estate are intended to supplement opinions on real estate expressed by local and national media, local real estate agents and other expert sources.  You should not treat any opinion expressed in This Month in Real Estate as a specific inducement to make a particular investment or follow a particular strategy, but only as an expression of opinion.  Keller Williams Realty, Inc., does not guarantee and is not responsible for the accuracy or completeness of information, and provides said information without warranties of any kind.  All information presented herein is intended and should be used for educational purposes only.  Nothing herein should be construed as investment advice.  You should always conduct your own research and due diligence and obtain professional advice before making any investment decision.  All investments involve some degree of risk.  Keller Williams Realty, Inc., will not be liable for any loss or damage caused by your reliance on information contained in This Month in Real Estate.